Juxtapoz Magazine – Ascaso Gallery Opens 3 Solo Shows at Their Caracas, Venezuela Location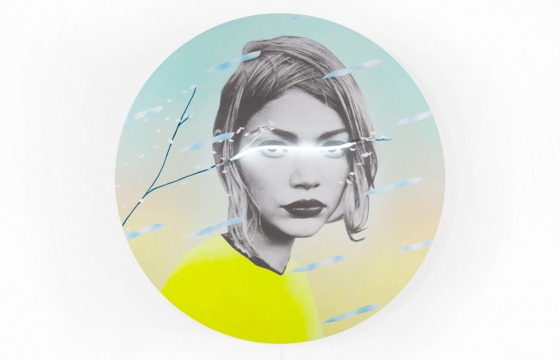 Ascaso Gallery is pleased to announce three concurrent solo exhibitions on separate stories of its Caracas gallery, featuring the work of three artists who employ allusions to pop culture to delve into our psychological landscapes: Arturo Correa, Javier Martin, and Noritoshi Mitsuuchi. 
Liminal Labyrinths unveils new work by Arturo Correa, a Venezuelan-American painter who interweaves abstract and cross-cultural imagery to invoke psychological transformations. Born in Valencia in 1967, he grew up inspired by the open-ended debates of his parents, a surgeon and a psychologist, on health and human behavior. After moving to the United States at 21 to study art, he earned an MA in Studio Art from NYU. Devastated by 9/11, which catalyzed a profound shift in his work, he left the city behind and eventually settled in Naples, Florida. 
Evolving constantly, his approach sprang first from his roots in Venezuelan and pre-Columbian culture, and later absorbed the influence of post-modernists like Basquiat and David Salle. His current work is a progression of an earlier series, Enredaderas – expressionistic canvases crowded with twisted vines – reimagined as clean, colorful shapes reminiscent of subway maps or mazes. In some of these large acrylic canvases, his energetic gestures stand unadorned, suggesting orchestral movements building upon each other. In others, cartoon characters pursue mysterious missions in this labyrinthine environment, while ghostly doodles float in the background like half-formed ideas waiting to express themselves. The references to childhood lend wit and playfulness to the abstract forms, but also a certain nostalgia.
Correa believes art has the power to heal the spirit, suggesting that "every day we are on a mission to find ourselves." He has held 22 solo exhibitions in Venezuela and the US, and his work is in the permanent collections of numerous museums and institutions. 
Skin Deep is a collection of work by Javier Martin, a Miami-based multidisciplinary artist who proposes visual metaphors via collage, painting, sculpture, video and performance art. Born in 1985 in the Spanish city of Ceuta on the northern tip of Africa, immersed in a vibrant mix of cultures, he began painting at the age of 7 and exhibited at a local museum just two years later. Deliberately avoiding formal art training, he developed his own approach, drawing inspiration from Picasso and conceptual art satirist Maurizio Cattelan, and showed at art fairs in Lisbon, Madrid and Paris before the age of 20. 
With this body of work, he explores the theme of "blindness" by obscuring his glamorous subjects' eyes – the proverbial windows to the soul – proposing that materialism and a focus on superficial appearance blind us to the inner qualities that define each person's unique beauty. Layering collaged prints of fashion models with swaths of oil, acrylic and spray paint and flourishes of neon, his imagery may appear on the surface to embrace luxury and consumption, but covertly conveys a struggle against conformity. 
Martin hopes to provoke self-reflection about what's truly important in life. "We often are blinded by so many different things within our society," he says. "There is nothing more dangerous than to only focus on the superficial and lose the window to your interior." His exhibitions include solo shows in New York, Miami, Madrid, Shanghai, Hong Kong, Tokyo, and numerous South Korean venues, among them the Seoul Museum. 
Cloud Nine presents work by Noritoshi Mitsuuchi, a Japanese painter who takes inspiration from both popular culture and ancient Japanese art forms. Born in Osaka in 1978, he studied at nearby Kobe Design University and began formulating his artistic voice in his mid-twenties, aspiring to attain the raw authenticity of childhood. "The more you try to perfect your art, things that matter will disappear increasingly," he explains. Working in acrylic on canvas, he evokes characters from Japanese folklore and European fairytales like knights, princesses, dragons, cats and bears, employing them as avatars of his own experiences and emotions. 
While he asserts that his theme, which he calls "cutism," is "not nostalgic," it is influenced by his interest in classic Western and Japanese cartoons, modern manga, advertising, skateboarding, street culture and traditional folk music, as well as artists like Paul Klee and George Condo. Drawn to unfinished, timeworn and comical decorative objects, he borrows from Japanese folk art such as the 12th-century Chōjū-giga (or 'Animal Caricature') scrolls, satirical illustrations which depict frolicking rabbits, monkeys and frogs dressed as monks. Likewise, many of his figures perch upon clouds inspired by 11th-century Buddhist sculptures of cloud-borne celestials known as the Unchūkuyō Bosatsu (or 'Bodhisattvas on Clouds'). 
Ultimately, Mitsuuchi says he seeks to "stimulate the viewer's memory and imagination," drawing together elements that are common between all cultures, bridging the gap between us with a universal language. He has exhibited widely in Japan and recently held solo shows in London, Hong Kong and Taipei.