Juxtapoz Magazine – Allison Zuckerman x AllRightsReserved Team for Bronze Sculpture Collection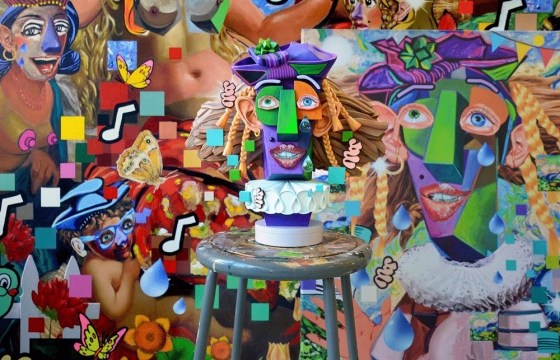 "Beauty should be something that challenges us, compels us, and makes us feel contradictory emotions," says artist Allison Zuckerman, on the occasion of her new collaboration with  AllRightsReserved on a bronze sculpture "Monolithic Beauty", now exclusively available on DDT Store.
Contemporary artist Allison Zuckerman re-presents art in her own way. She presents women as subjects to express Renaissance paintings. Allison uses a surreal and complex style, using collage and graffiti in her painting and hopes that readers will pay attention to every detail of the work. Allison's paintings combine tradition and online culture, using pigments and digital images, with a wide range of materials, integrating classic master portraits and even emoji creation, to criticise social culture.
The first bronze sculpture  "Monolithic Beauty", the artist is inspired by the concept of beauty, hoping to present beauty throughout time and culture. The work is presented from a female perspective, with colourful and rich single-piece elements of female bronze sculpture, and has an extraordinary appearance design. It brings a charming and grotesque feeling, but it is beautiful to the artist. Allison believes that women are often the subjects of artworks, but rarely the creators. She hopes to retell their stories from the perspective of women, who can be seductive, but sentimental and intimidated at the same time, to present a more authentic feeling.