They work with supermodels, A-list actors and reality TV stars, so when it comes to looking and feeling good, who better to advise you than a celebrity personal trainer?
Below, Kacy Duke, Mary Helen Bowers and Justin Gelband share their tips for a healthy lifestyle, whether you crave the muscles of an action hero or the well-rested, dewy face of runway royalty.
What Is a Well-Balanced Lifestyle?
Eating well and exercising are important, but you need to consider all your habits if you want to live more healthily. It's much easier to get active or stick to a nutritious meal plan if you've had a good night's sleep—and adequate rest can depend on your stress levels. If you'd like to improve your body, you must think about your mind too.
Duke, Bowers and Gelband all believe a healthy lifestyle comes down to four factors:
Fitting exercise into your routine
The food you eat
Sleep quality
Managing stress.
How To Fit Exercise Into Your Daily Routine
Duke's A-list clients include Denzel Washington and Dakota Johnson—as well as con artist Anna Sorokin of Inventing Anna fame. The personal trainer said variety, mindset and positive thinking were the keys to fitting exercise into your routine.
"I always say, create an interesting life. Decide what you want and what works for you," she told Newsweek.
Gelband, sometimes known as the "model whisperer," has worked with pop stars, Sports Illustrated centerfolds and Victoria's Secret models. He said a common mistake people make is trying to put a timeframe on exercise.
"People have this big notion that if you don't work out for an hour, or two hours, then you didn't work out. Anyone should be able to find 20 minutes a day to spend on themselves.
"Walk to work or on your lunch break. Spend 25 minutes doing a video when you get home—as long as you're moving."
Ready to start working out? Here are five common mistakes to avoid, according to experts.
The Food You Eat
Bowers is the founder of Ballet Beautiful, a classical dance-inspired fitness company. She has trained Kirsten Dunst and Zooey Deschanel—and helped Natalie Portman prepare for her Oscar-winning performance in Black Swan.
Bowers, a former dancer in the New York City Ballet, believes moderation is the secret to a healthy, balanced diet.
"I love incorporating fresh fruits and vegetables, drinking lots of water, and eating locally," she said. "I stay away from heavily processed foods, but I don't have a lot of restrictions. I indulge daily in chocolate, coffee and cheese."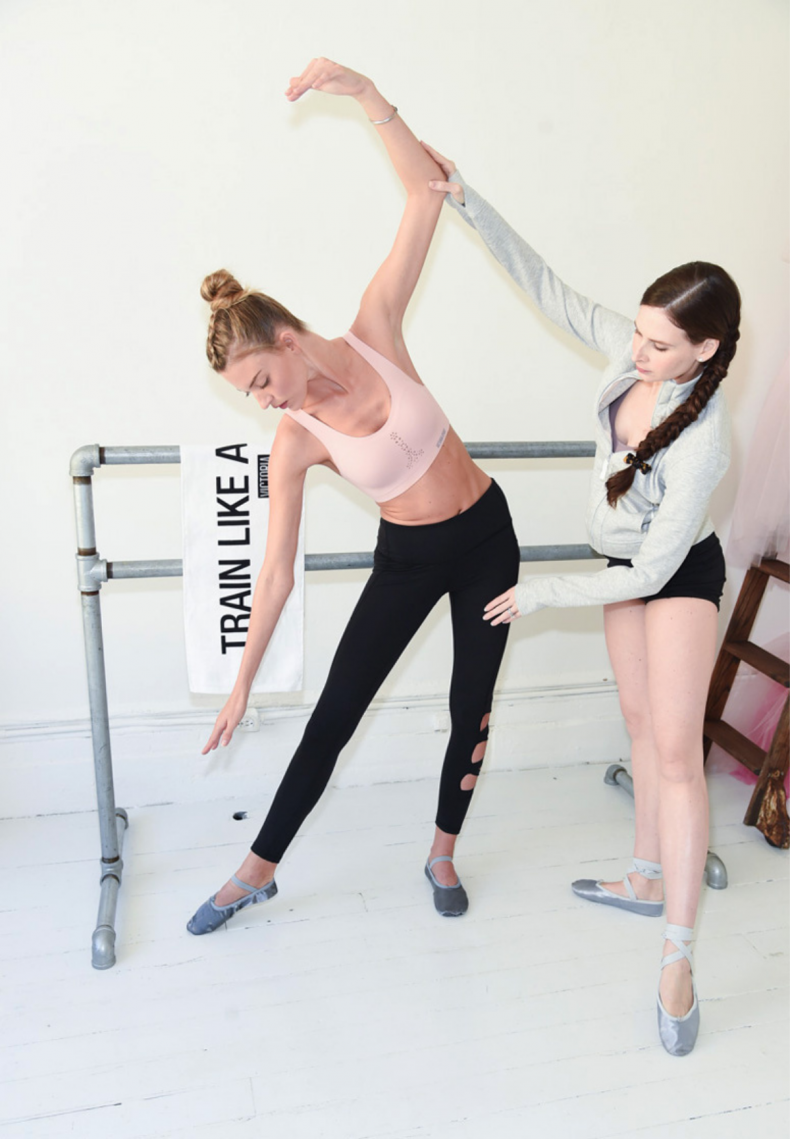 Eating produce in a variety of colors is crucial for a well-rounded diet, as is taking the time to enjoy your food, Bowers told Newsweek.
"Put all kinds of vegetables in there—the more colorful it is, the healthier it is. Put it on a plate, set a beautiful table for yourself [and] make it pretty. You deserve it."
Gelband recommends not eating after 8:00 p.m. and using intermittent fasting to boost your metabolism. However, the "fast" should include the time you spend sleeping, making the process more manageable.
"When you eat really late, your body is just a pile of food [the next day]. When you get used to doing the intermittent fasting, your body changes immensely," he said.
Get a Good Night's Sleep
Put away your digital devices and take time to wind down before bed. "I try to turn off my phone and read a physical book with a cup of tea," said Bowers.
Duke said she struggled with sleep during the making of Inventing Anna, in which she was played by Laverne Cox.
"It was a lot, not knowing how it was all going to turn out. It was exciting, but at the same time I was scared out of my wits," she explained.
She is still experimenting with different methods, but said healthy living during the day had the biggest impact on sleep quality in the long term.
"You can't switch off whatever you're going through in your world," she said. "But if you have a good day of exercise and eating right, you feel you deserve a good night's sleep."
To help you relax before bed, try these easy exercises from meditation teachers. If you're sleeping through the night but waking up tired, you might not be getting enough restorative deep sleep—here are some ideas to fix the problem.
Tips for Managing Stress
"Anxiety can feel constant," Bowers said, so it's important to find "everyday healthy outlets to help escape from stress and quiet the mind, like exercise or taking a walk."
Gelband recommends deep breathing techniques to help you calm down, as well as low-impact exercises such as Pilates and yoga.
"Take deep breaths in and out, close your eyes. Anything that keeps your body feeling relaxed and open-minded," he said.
Focusing on happy memories can also help alleviate daily stress, according to Duke. "Gratitude is the best attitude. Find something to be excited about and remember the greatness within you."
https://www.newsweek.com/easy-follow-lifestyle-tips-celebrity-personal-trainers-duke-gelband-bowers-1704105