I try and include a vegetable with every dinner. It's a healthy practice, and a yummy addition with these flavorful Vegetable Side Dishes!
More Collections: Family Dinner Ideas, Sunday Dinner Ideas, BBQ Side Dishes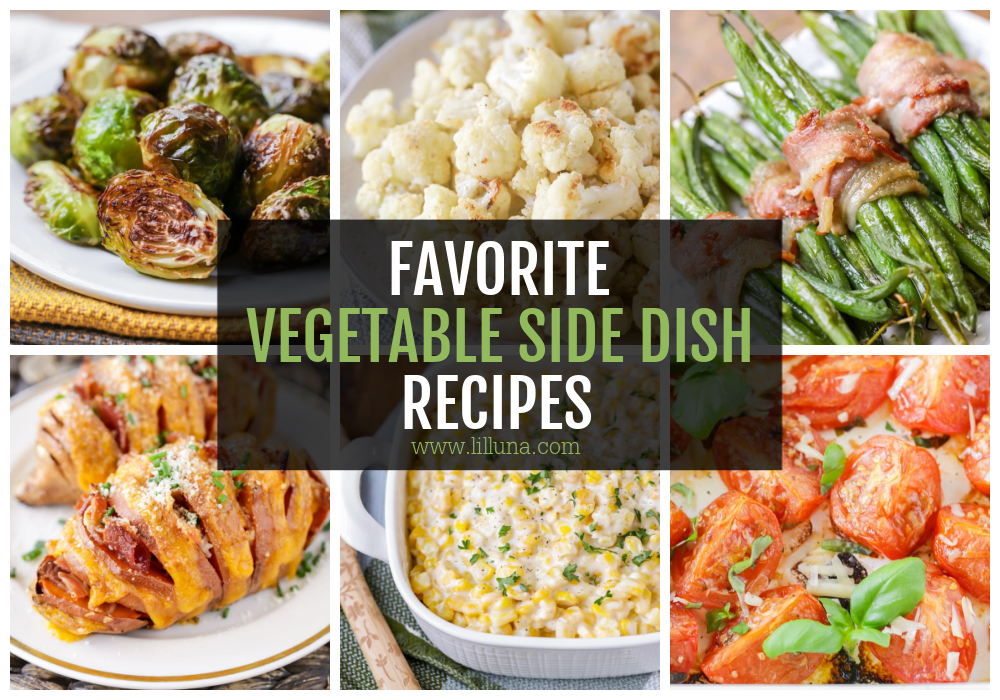 Round out Your Meal with a Veggie Side!
Get your kids to eat their veggies!! When seasoned and cooked properly, veggies are so much more appealing and easy to eat—especially for the littles.
With this collection of yummy Vegetable Side Dishes, you're sure to find something even the pickiest eaters will be able to enjoy, making sure your family gets a well rounded meal full of healthy nutrients!
I've included all kinds of vegetables—broccoli, carrots, asparagus, zucchini, potatoes, you name it! But before we get into the recipes, I have a few tips on preparing and serving veggie side dishes.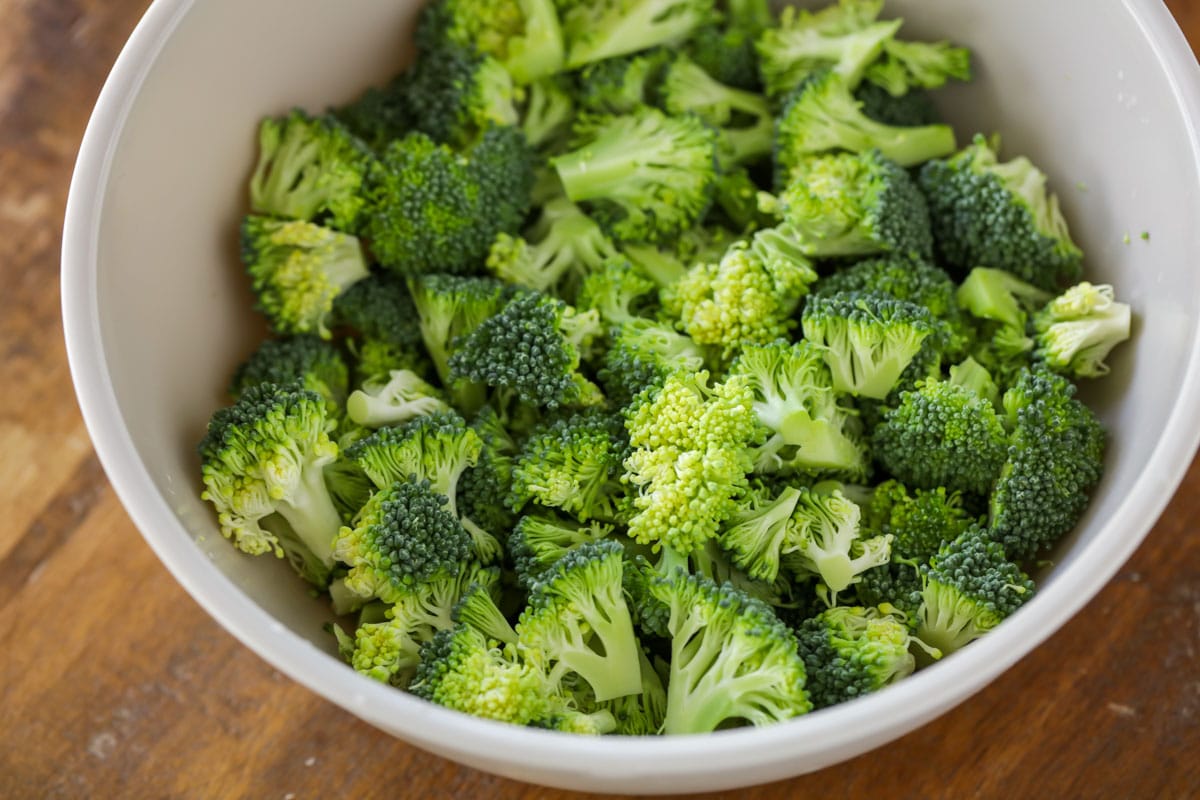 Ways to cook and eat vegetables
There seems to be just as many ways to prepare vegetables as there are vegetables themselves. In a nutshell, here are some of the most common:
Raw. The healthiest, quickest, and easiest way to eat vegetables is raw. Think veggie trays with dip, or a salad. 
Steaming. Steaming is particularly great for tender vegetables, but can work for any kind.
Instead of placing the vegetables directly into hot water, suspend them above the water in a basket.
The steam from the water cooks the veggies.
Let them steam until they are tender and bright in color.
Season them with herbs and sauces.
Boiling. This method calls for placing veggies directly into boiling water, along with a bit of salt for flavor.
Once the vegetables are in the water, cook them until bright in color, and as tender as you desire. Be careful to not overcook them.
Blanching. Blanching is boiling the vegetables until tender, then immediately running cold water over them, to keep them from cooking further. 
Sautéing. Be sure to cut the vegetables the same size.
Heat a pan over medium high heat and add oil.
Once hot, add in any aromatic seasonings like garlic, onion, or peppers.
Cook them until fragrant, then add the vegetables.
Stir until vegetables are crisp and tender.
Stir fry. Many people use this term interchangeably with sautéing, but there is a difference. The ingredients are the same, but you use HIGH heat to cook the vegetables much faster.
Constantly stir and toss the vegetables, so they don't burn.
Also, add heartier vegetables to the pan first, then add more tender vegetables, so they all finish cooking at the same time. 
Frying. Definitely delicious, but the least healthy way to cook veggies. Pan fry or deep fry, just be sure the oil is around 375°F. Note: using an air fryer is a great way to get a crisp fried finish, without the added oil.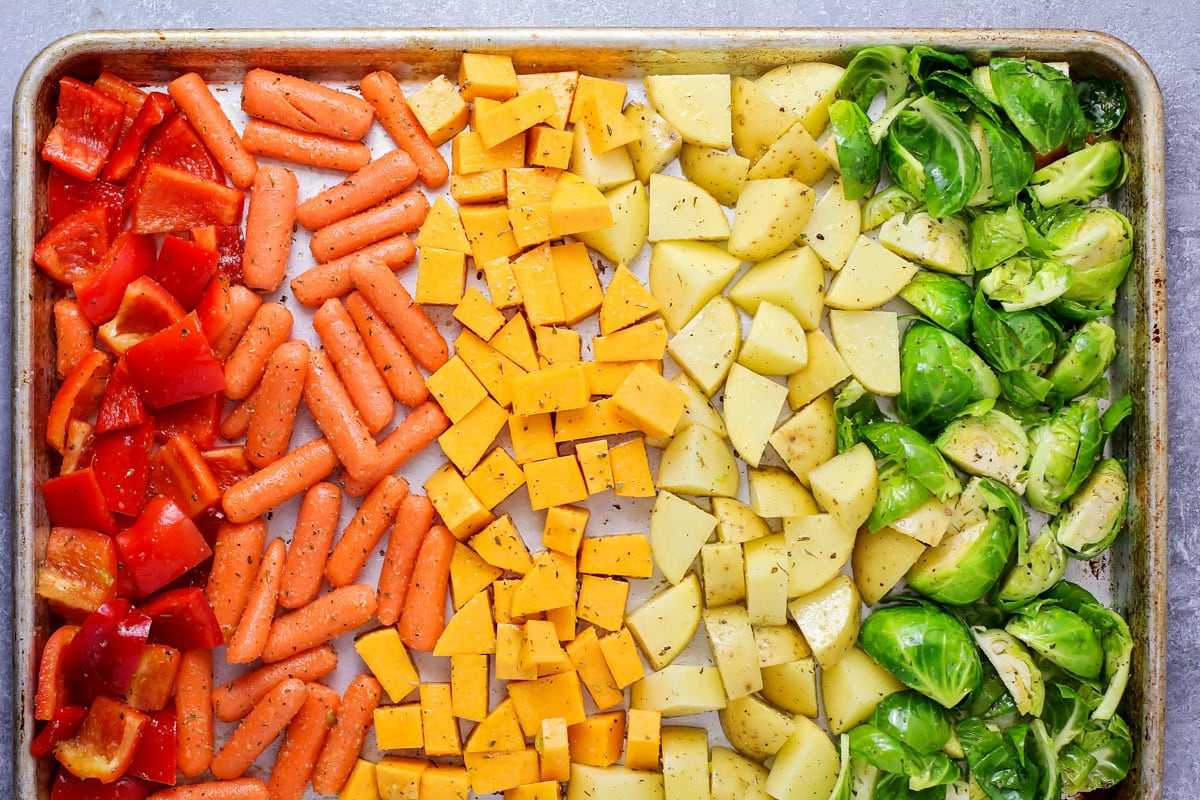 Even More Cooking Methods
Roasting. Roasting brings out delicious caramelized flavors in vegetables.
In general, chop your vegetables into equal sizes.
Preheat the oven to about 400-425°F.
Toss the veggies in oil and seasonings, then lay them out on a baking sheet and roast until tender inside.
Grilling. Cut vegetables so they are large enough that they won't fall through the grill grates. You can also purchase a grilling basket to avoid this.
Preheat the grill to medium high heat.
Drizzle vegetable oil over the veggies and add salt.
Grill the vegetables in a single layer.
Tender vegetables only need about 7-9 minutes, whereas heartier vegetables will need up to 12-15 minutes.
Be sure to flip after the first 3-4 minutes, then finish grilling until tender. 
Casserole. There are some delicious casserole recipes out there. The bake times vary depending on the size and other ingredients included in the dish.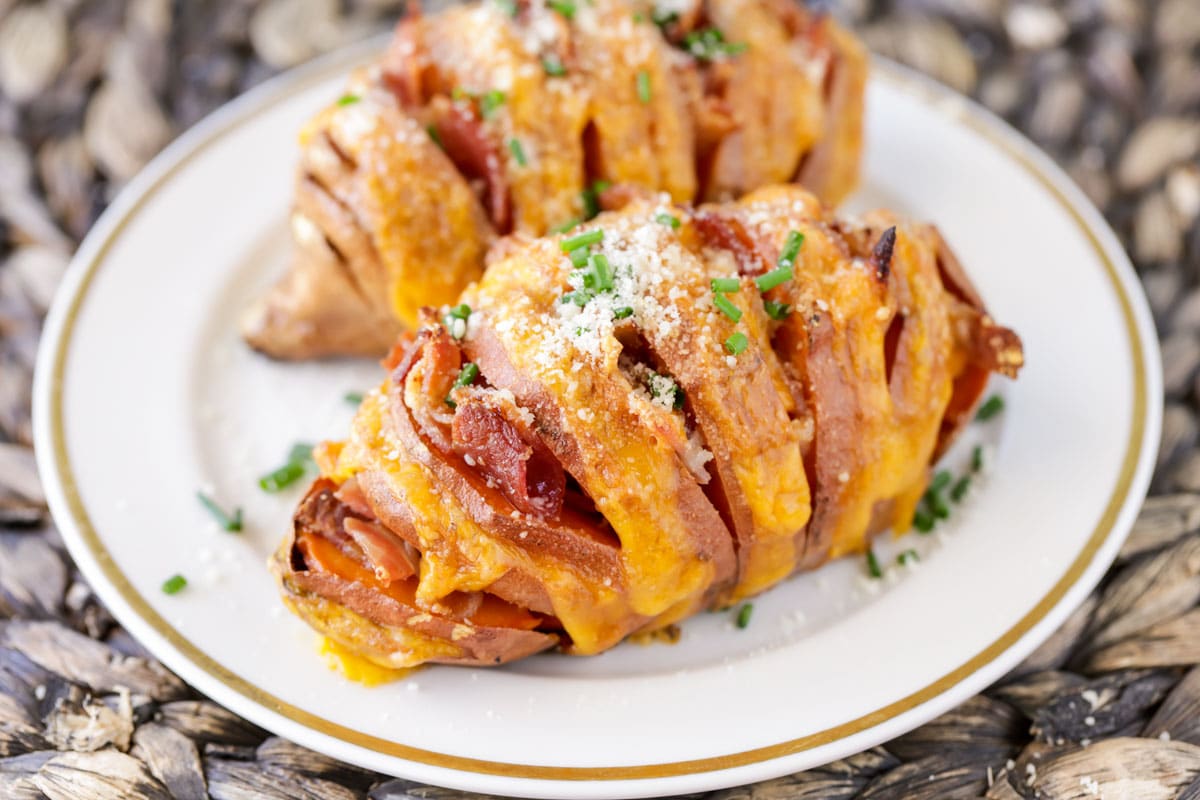 serving tips
How many side dishes to serve. When I am serving a standard weeknight dinner to my own little family, I like to provide 1 vegetable side dish and one other side dish – usually a starch like rice or bread.
When hosting a dinner party, you'll want to serve more sides, as well as prepare enough servings. The following information will help give you a good guideline when planning your meal. 
7 guests or less. For 6-7 guests, plan to serve 3 sides: a vegetable, a starch and one of your choice. 
8 or more guests. Add another type of side dish for every 5-8 additional people who plan to attend.
Balanced dishes. When adding more side dishes, be sure to keep things balanced between vegetables and starches. You don't want to end up serving 5 types of vegetable dishes and one type of starch.
Serving Sizes. Keep in mind that when you provide several side options, you don't have to provide a full serving of every dish to every person. 
Salad: ¾ -1cup or 2-3 oz
Mixed Vegetables: 1 cup raw or ½ cup cooked 
Potato Dish: 6 oz per person
Vegetable casserole: 4 oz per person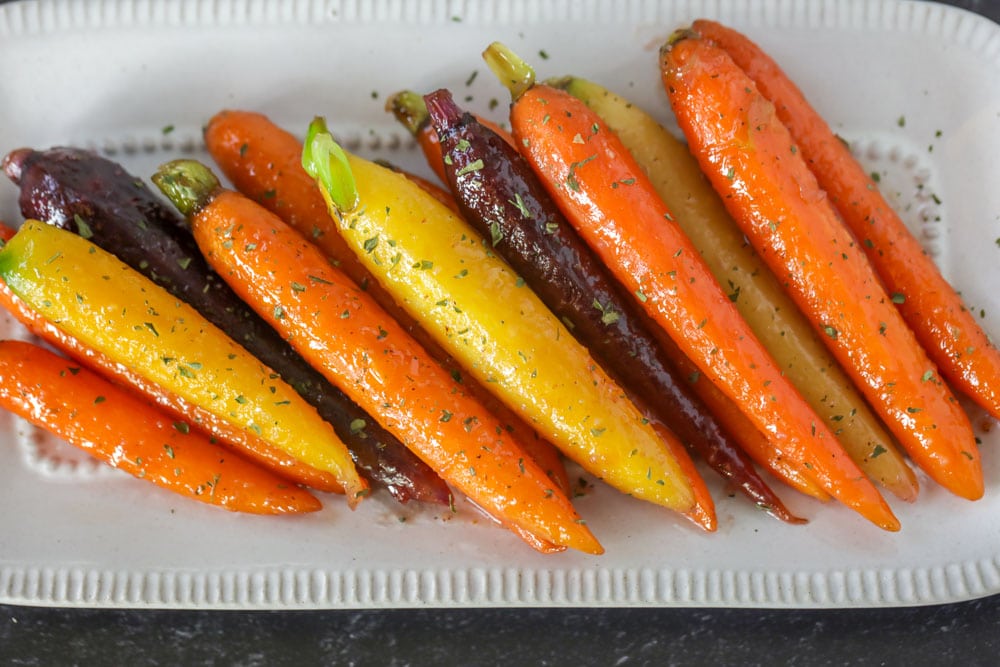 Ways to get kids to eat veggies! 
Teach them. Help them understand why vitamins are important for our bodies, and how eating vegetables is healthy.
Don't give up! It can take serving a veggie up to 10 times before a child will eat it without fuss, and maybe even like it. Taste buds also change, so if a child still won't eat it, try again months or even years later. 
Change the way it's prepared. I have a child who will eat raw broccoli, but not cooked.  
Be a good example by eating your own veggies, and not being too vocal about vegetables that you don't like.
Let them help. When you let them help prepare the food, they are more likely to be willing to eat it.
Make veggies fun. Celery by itself, no way! Add peanut butter and raisins, call it "Ants on a Log", and it gets eaten. 
Seasoning Vegetables. Some vegetables like bell pepper, have tons of flavor, but others can be bland. Adding the right herbs and spices can really elevate a boring vegetable.
Some favorite seasonings. Oregano, cloves, basil, parsley, thyme, tarragon, cinnamon, cumin, dill, garlic, nutmeg, curry are among our favorite. Add citrus juice for a bright flavor. 
---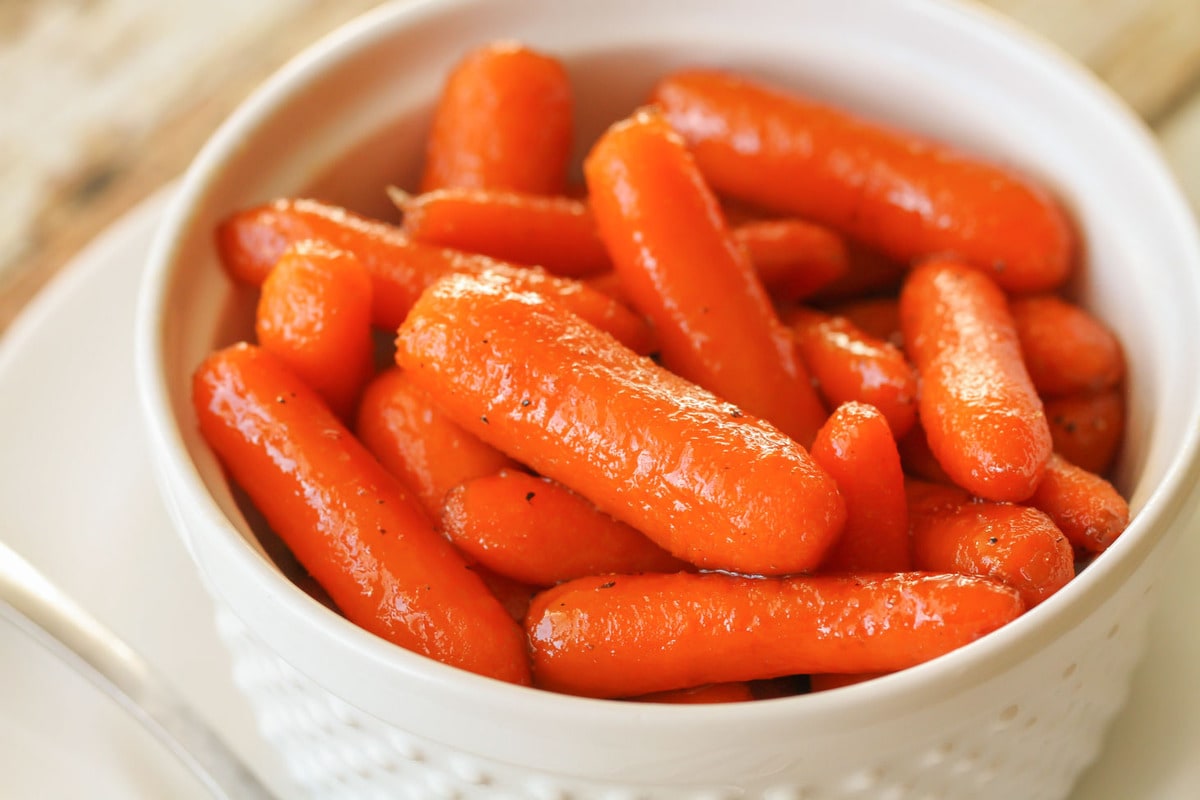 Best Vegetable Side Dishes
These delicious Vegetable Side Dishes are some of our favorites. Enjoy them all!
Brown Sugar Glazed Carrots – If you need a go-to side dish, these Brown Sugar Glazed Carrots are perfect for you! The tastiest candied carrots recipe!! Even better, it takes less than 10 minutes to make and only requires 4 ingredients!
Funeral Potatoes – Family-favorite Funeral Potatoes casserole is creamy, cheesy, and crispy on top. It's perfect for dinners and holidays!
Cucumber Tomato Avocado Salad – Cucumber Tomato Avocado Salad is a simple, delicious and quick salad perfect for dinner or for BBQs and get togethers. It's so light and refreshing!
Roasted Brussel Sprouts – Oven Roasted Brussel Sprouts have a perfectly crispy outside, and a melt-in-your-mouth center. With only 5 minutes of prep time, you'll want to make this delicious and healthy side dish every night!
Best Mashed Potatoes – These buttery smooth mashed potatoes are our Go-To potato side dish recipe for every dinner and holiday get together. They're everyone's favorite potatoes!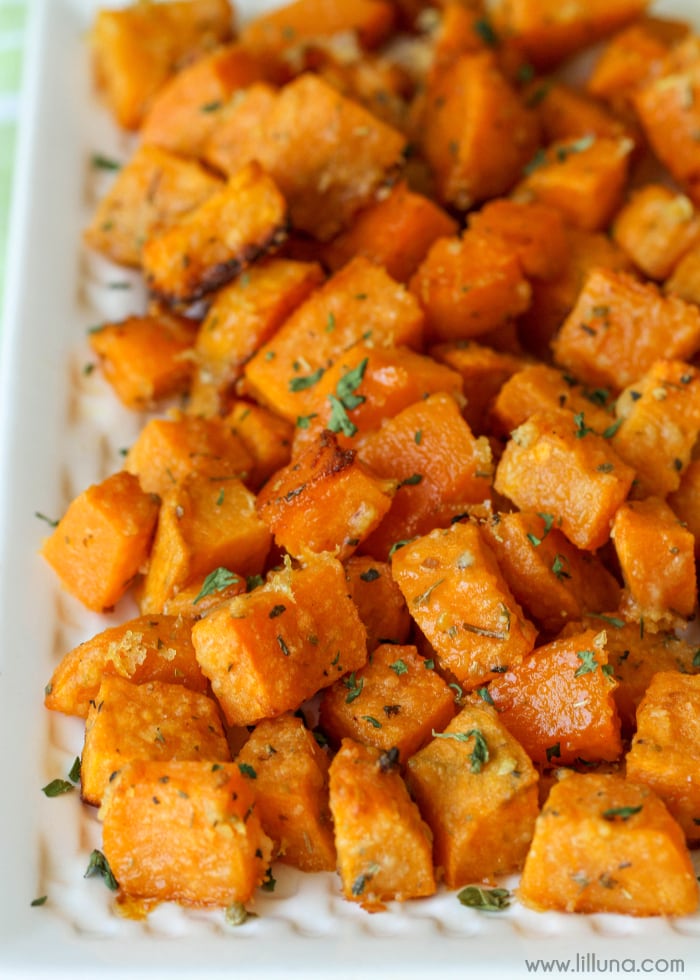 Baked Sweet Potato Cubes – Baked Parmesan Sweet Potatoes- soft sweet potatoes coated with parmesan cheese and all kinds of spices!! It's a new favorite side dish that is quick and delicious.
Green Bean Bundles – These Green Bean Bundles make for the ultimate side dish. Bacon wrapped green beans drizzled in butter, brown sugar, and garlic salt – the flavor can't be beat!!
Baked French Fries – Baked French Fries are a healthy twist on a crunchy comfort food. They are still packed with flavor and will satiate all of the fried potato cravings.
Garlic Mashed Red Potatoes – Creamy Garlic Mashed Red Potatoes are packed full of flavor. They are a great side dish to any meal and are loved by all.
Hasselback Sweet Potatoes – Cheesy Hasselback sweet Potatoes are stuffed with cheese, bacon and so much flavor. It's one of the yummiest ways to serve potatoes.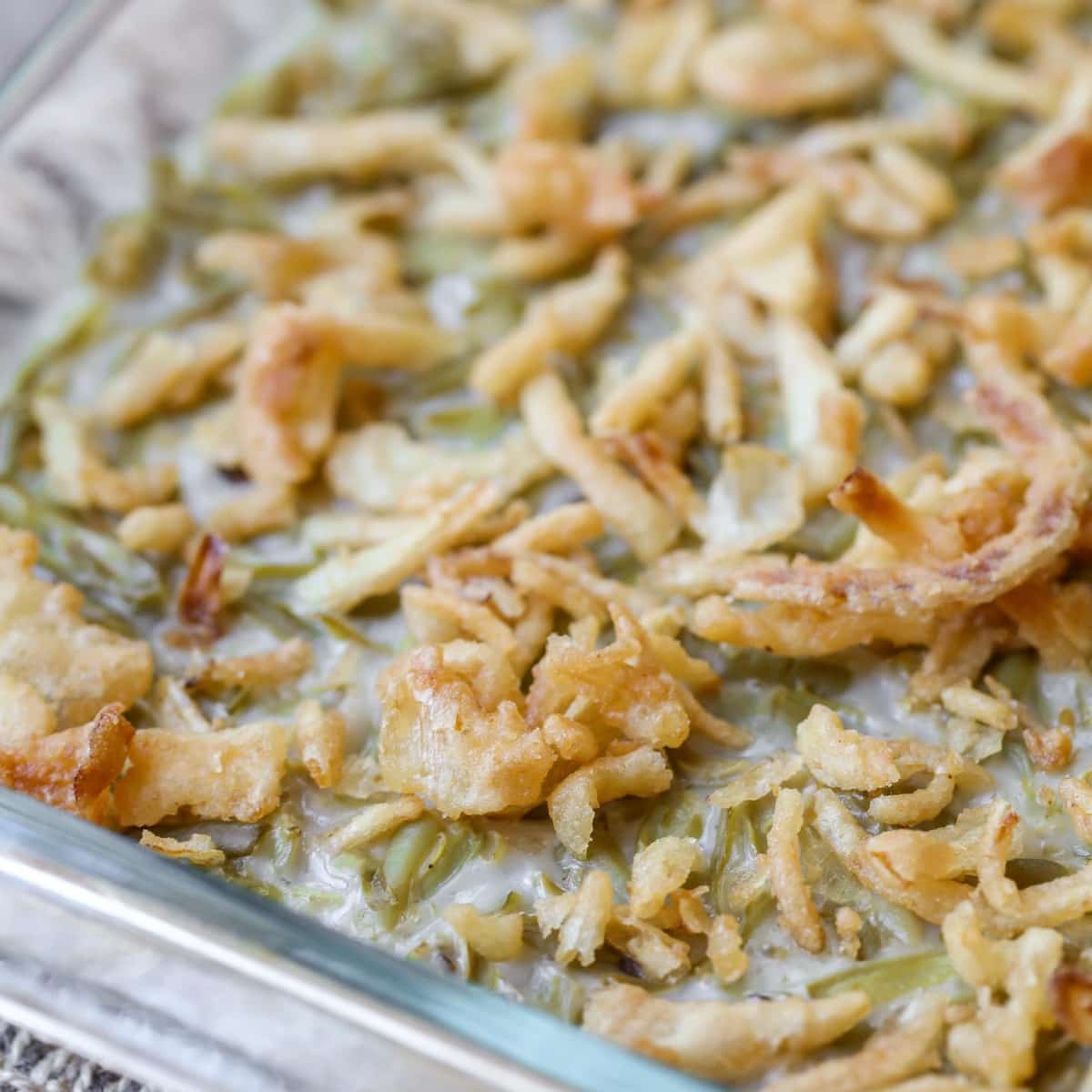 easy vegetable side dishes
All of these side dishes are ready in 30 minutes or less! This collection of Vegetable Side Dish recipes are simple, but still packed with flavor. You can't go wrong with any one of these!
Easy Green Bean Casserole – Green Bean Casserole is a classic side dish, especially at holiday meals! This savory casserole is simple, delicious and requires only 4 ingredients, which makes it the perfect addition to your holiday menu!
Cauliflower Rice – This tasty low-carb side dish will knock your socks off with how yummy it is! Cauliflower rice will be your new go-to healthy side dish!
Caramelized Brussel Sprouts – Fabulously sweet and a little crispy, these caramelized Brussel sprouts are one of our favorite side dishes! Even your pickiest eater will enjoy this recipe.
Roasted Cauliflower – Roasted cauliflower is the perfect healthy side dish for so many dinner meals. It's simple to throw into the oven and comes out golden brown with a little crunch.
Roasted Tomatoes – Juicy roasted tomatoes are the yummiest and easiest appetizer or side dish. Roasting them (with a little olive oil, basil and parmesan) brings out every delicious flavor!
Mashed Cauliflower – Creamy mashed cauliflower is undeniably delicious! It's simple to make and is such a great side dish for any dinner meal.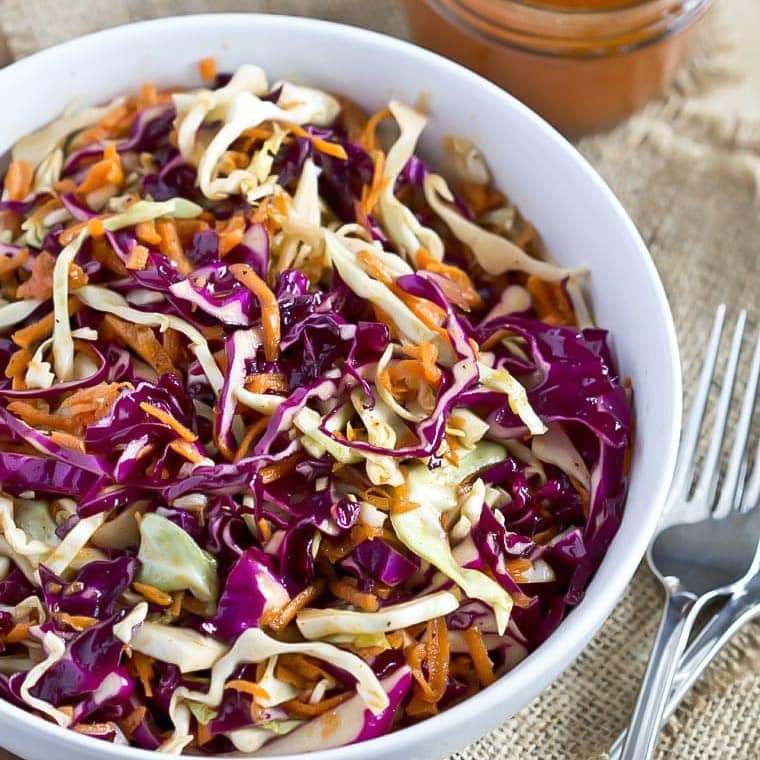 Sweet Coleslaw – Sweet and Tangy Coleslaw is a copycat of a tasty dish from Disneyland's Big Thunder ranch. It is a perfect side dish to any meal or BBQ.
Roasted Green Beans – Roasted Green Beans are the easiest and most delicious healthy side dish that goes perfect with any dinner. Plus, they're quick and great for holiday meals too.
Brussel Sprouts And Bacon – Brussel sprouts with bacon has a delicious flavor that will make you come back for second and third helpings! Adding bacon is the perfect addition to this side dish recipe that is simple and loved by all.
Parmesan Brussel Sprouts – These Parmesan Brussel Sprouts are a new favorite side dish. The roasted parmesan makes a wonderful crunchy texture and adds a delicious layer of flavor!
Honey Glazed Carrots – Easy and Delicious Honey Glazed Carrots that are the perfect side dish to any meal! They're quick to make and are coated in a butter-y honey glaze that everyone loves. 
Sheet Pan Oven Roasted Vegetables – Simple, flavorful, and healthy roasted vegetables that take less than 10 minutes of prep work! Nothing beats yummy veggies roasted in the oven!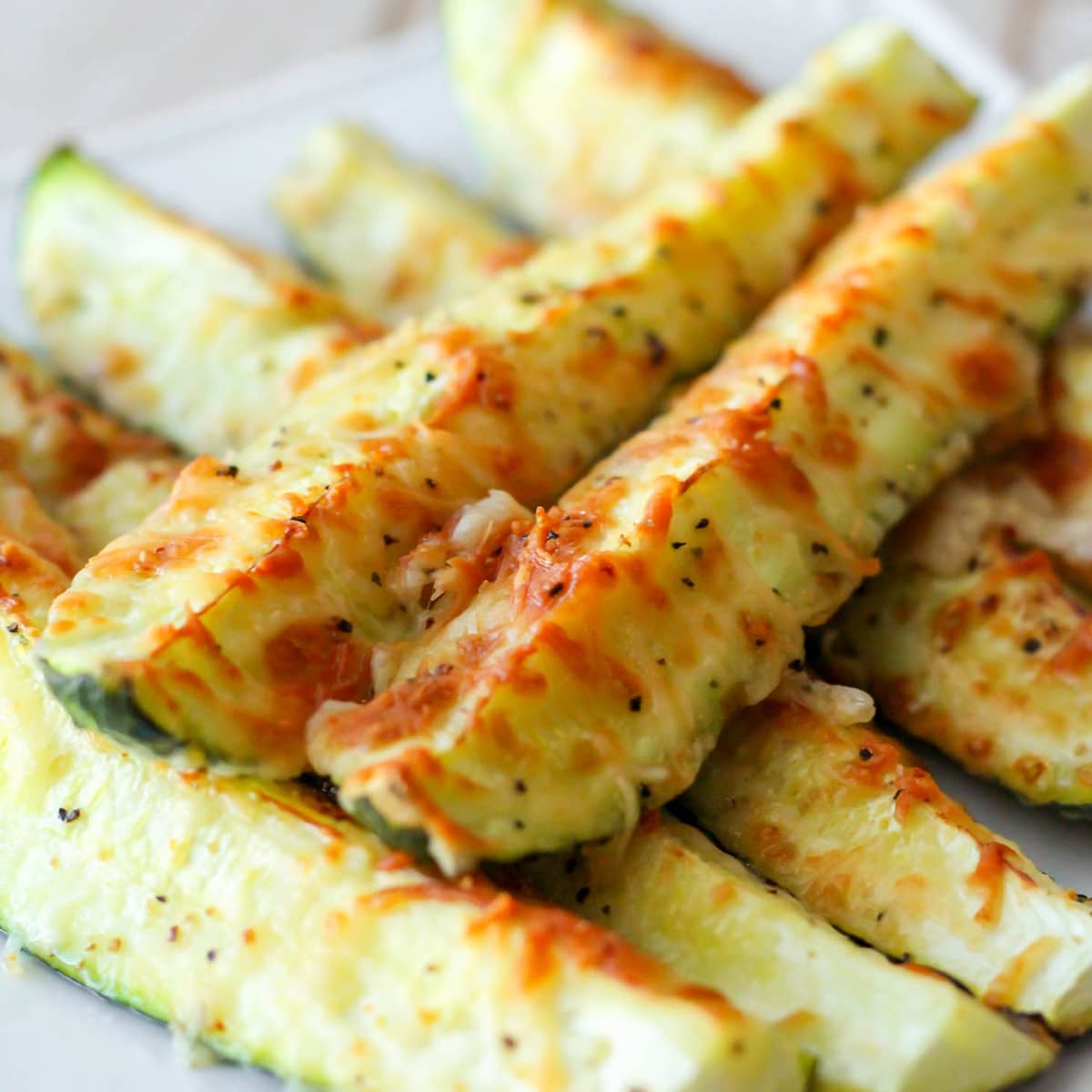 Zucchini Sides
When choosing veggie sides, I often lean towards my favorites – zucchini is one of those. I've always loved zucchini, and with these tasty recipes, I hope you will too!
Parmesan Crusted Zucchini – Delicious and Healthy Baked Parmesan Zucchini. These spears are crusted in Parmesan cheese and baked to perfection, making them a great side dish for any meal. 
Cheesy Zucchini Casserole – Cheesy Zucchini Casserole – a simple and delicious side dish made with zucchini pieces, cheese, butter and crushed Chex! It's so good!
Cheesy Zucchini Tots – Cheesy zucchini tots are a fun twist on tater tots, and are loaded with my favorite vegetable. They're super easy and quick to make.
Baked Zucchini Fries – These baked zucchini sticks are crusted and baked in Panko, parmesan cheese, oregano, and basil. Zucchini fries are healthy AND delicious!
Fried Zucchini – Whether you serve it as a side or an appetizer, this restaurant style Fried Zucchini is a family favorite. Fried to perfection, this dish is simply addicting, especially dipped in ranch and marinara!
Air Fryer Zucchini – Crispy air fryer zucchini will give you all the flavor and none of the guilt! This healthy version still packs the flavor punch.
Baked Zucchini Chips – If you're looking for a tasty side, these Baked Zucchini Chips are your answer! Sliced zucchini baked to perfection with a bread crumb and parmesan crust. These bite-sized veggies taste amazing and are a great alternate to the classic fried zucchini recipe.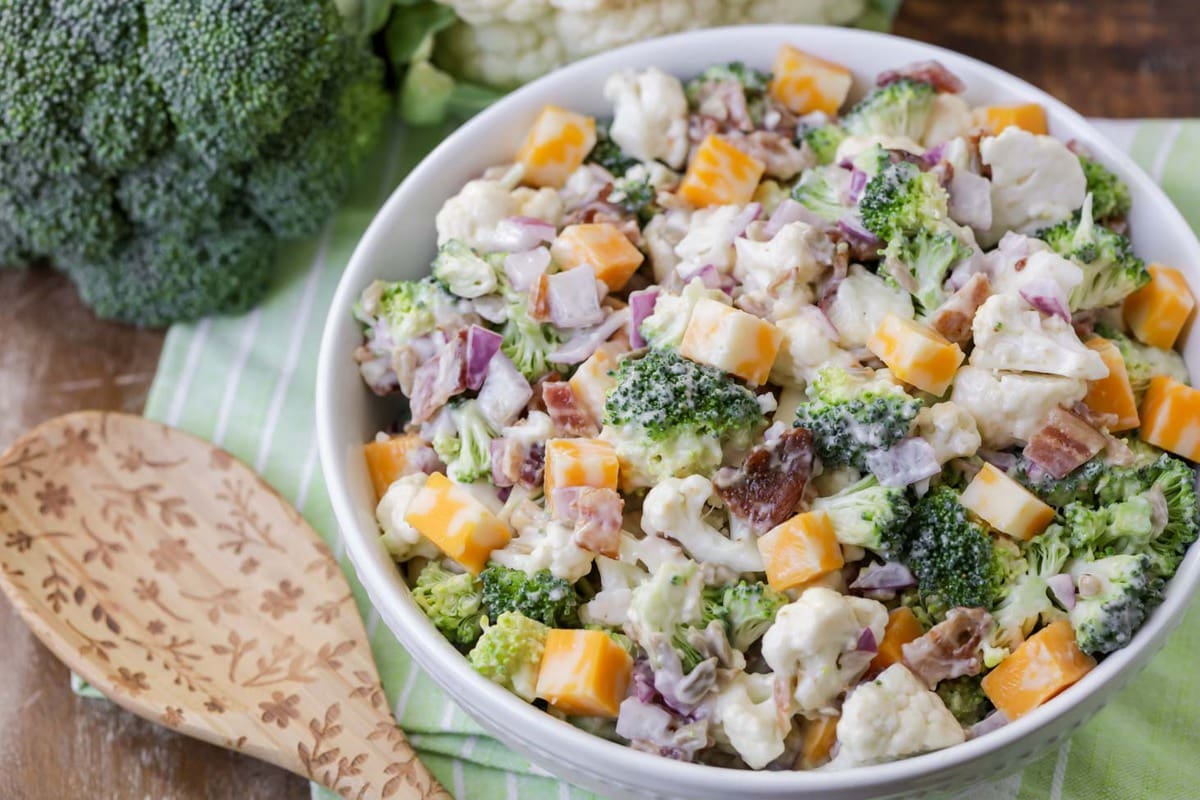 Broccoli Sides
When you need a go-to veggie side dish, broccoli is always a good choice. Any one of these is sure to be a hit!
Broccoli Cauliflower Salad – Flavorful and simple cauliflower salad with a creamy crunch! Filled with veggies, onions, bacon, sunflower seeds and cheese, this salad is sure to be a hit at any BBQ or get together.
Roasted Broccoli – Delicious, tender Roasted Broccoli coated in olive oil and lemon juice and drizzled in Parmesan cheese. We love this recipe!
Favorite Broccoli Salad – This Sunny Broccoli Salad is a simple, tasty and hearty broccoli salad served with bacon, cranberries, sunflower seeds, and mixed with a delicious, homemade mayonnaise-vinegar based dressing that is perfect for BBQs and get togethers.
Broccoli Cheese Casserole – A creamy combination of broccoli and cheese, topped with a crunchy Ritz cracker topping! Even your pickiest eaters will love this Broccoli Cheese Casserole!
Broccoli Slaw – Broccoli slaw is layered with green onions, oriental ramen noodles, peanuts, and sunflower seeds in a delicious dressing!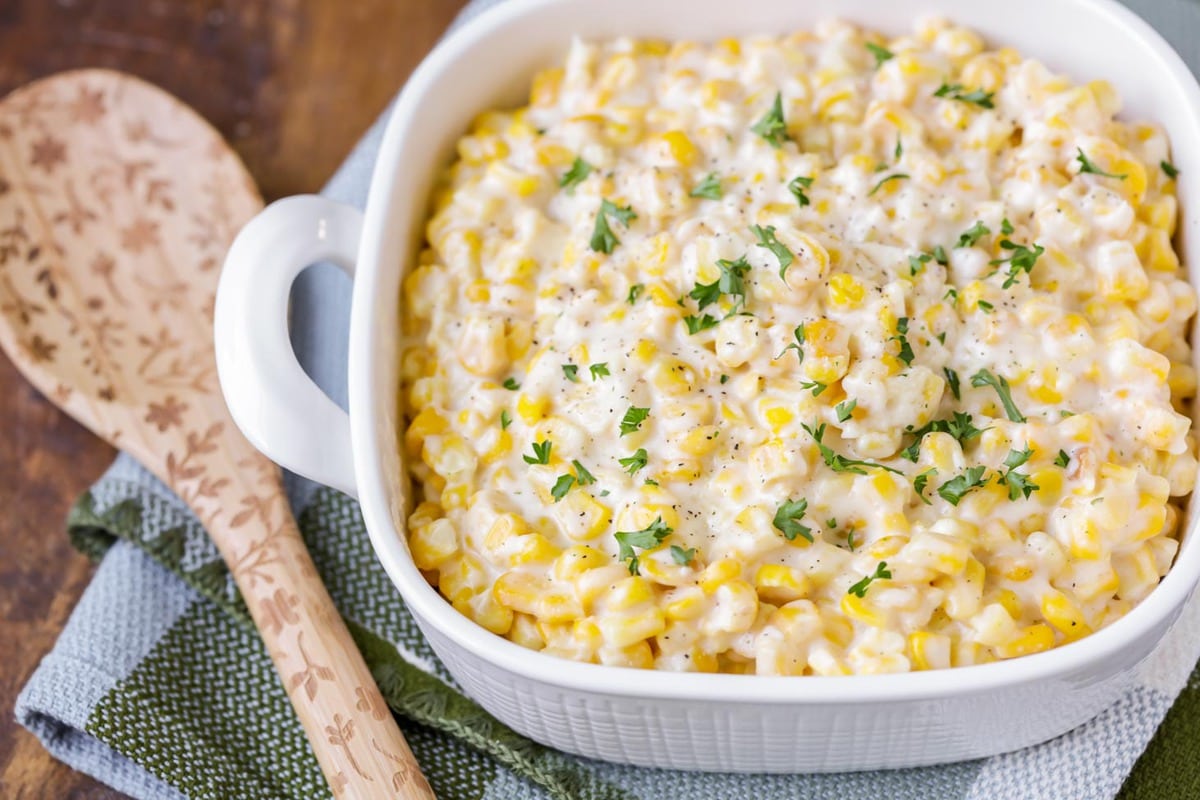 Corn Sides
Corn is a classic side, and most often loved by kids. That's why these corn sides are among my go-to side dish favorites.
Creamed Corn – A smooth and creamy side dish filled with cream, butter and cheese. Anyone who likes corn will love this recipe! This creamed corn is also a perfect side dish for holiday meals.
Summer Corn Salad – This Summer Corn Salad is a light, flavorful salad filled with corn, tomatoes, feta, basil and cucumber. It's so simple and quick that it's perfect for get togethers and BBQs.
Boiling Corn On The Cob – Boiling corn on the cob is a cinch! You will love this juicy corn on the cob to put on the side of any summer meal.
Microwave Corn On The Cob – Did you know you can microwave corn on the cob? It's the quickest and easiest way to cook juicy, crispy corn on the cob.
Mexican Street Corn – Delicious Mexican Street Corn – a copycat version from Torchy's Tacos filled with butter, cheese, chili powder and cilantro.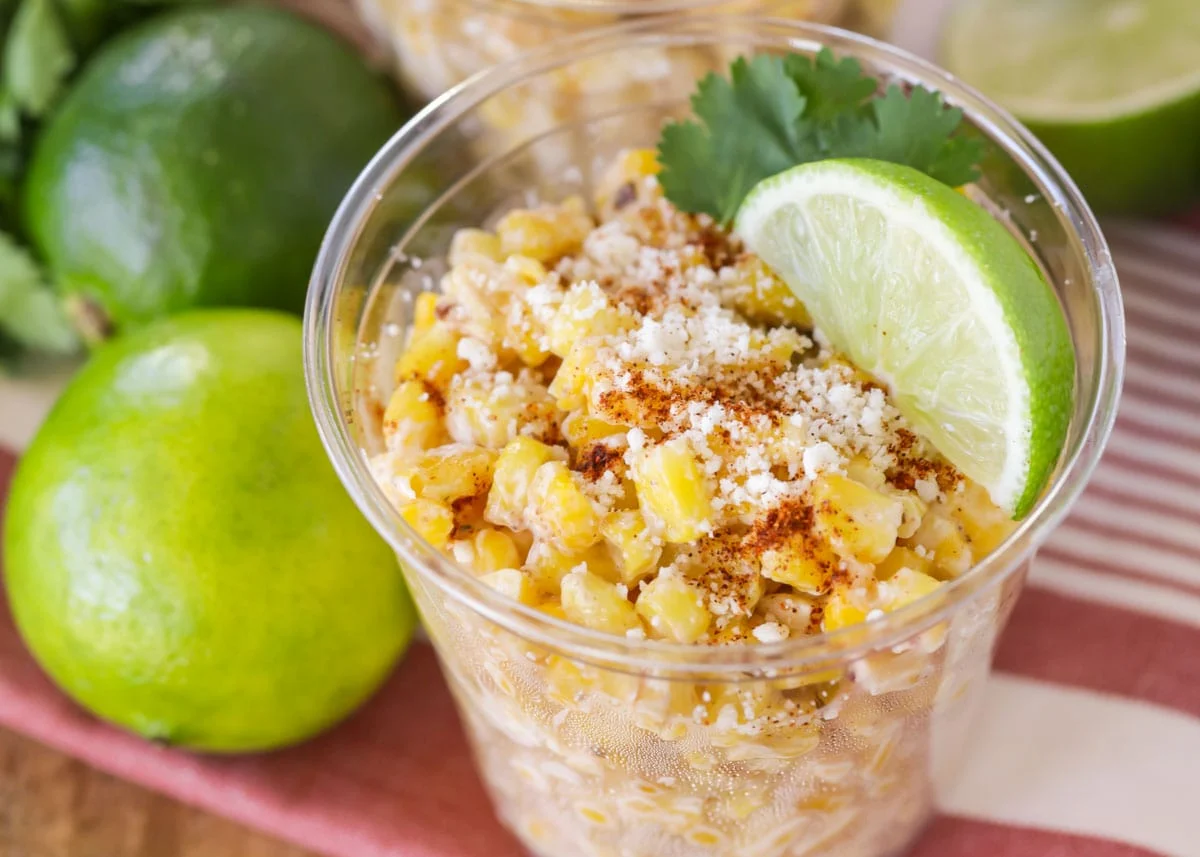 Esquites – Esquites is a tasty corn salad topped with chili and cotija cheese. It's incredibly delicious and easy to whip up!
Crock Pot Creamed Corn – A big holiday dinner wouldn't be complete without rich flavorful creamed corn! It's creamy, buttery, and cheesy. Everyone's favorite holiday side dish!
Frito Corn Salad – Fresh and tasty Frito corn salad is bursting with sweet corn and covered in a perfectly spicy creamy sauce. It is perfectly refreshing.
Corn Salsa – Savory corn salsa has a little kick of spice! There are so many yummy uses for this delicious and simple salsa.
Mexican Corn On The Cob – Mexican Corn on the Cob is one of the best street foods in the world!! It's slathered in cheese, mayo and spices and is perfectly delicious!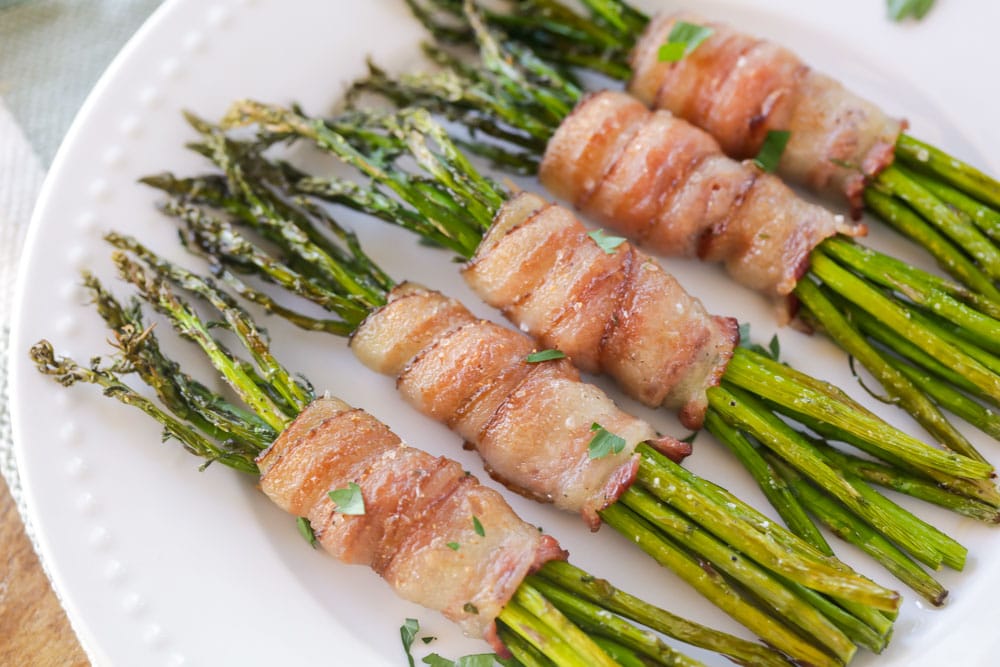 Asparagus Sides
If you, like me, love asparagus – these delicious side dishes are for you! Every one is a winner.
Bacon Wrapped Asparagus – Bacon Wrapped Asparagus is a smoky and savory side dish. It is crispy, delicious, and takes about 20 minutes to prepare!
Asparagus And Potatoes Medley – Delicious potatoes and asparagus mixed together with bacon, butter and more. This vegetable medley is a great side dish to any meal!
Asparagus Salad – Filled with mozzarella cheese, and cherry tomatoes, seasoned with basil, and covered in a light balsamic vinaigrette, this asparagus salad is bursting with flavor! Best of all, it comes together in less than 10 minutes!
Baked Parmesan Asparagus – This Parmesan Baked Asparagus is the easiest and yummiest way to eat the veggie! It takes just minutes to prep and is the perfect side dish to any meal!
Bacon Wrapped Asparagus Skewers – This recipe is inspired by one of our favorite Disneyland foods – Bacon Wrapped Asparagus Skewers from Bengal Barbecue! These skewers only require 4 ingredients and take less than 10 minutes on the grill!
Grilled Asparagus – Grilled asparagus is the best side dish alongside almost any dinner recipe! Sprinkled with salt, pepper, and a little parmesan cheese—this recipe is incredible!
---
the complete list
Here are the picture cards for all of the wonderful Vegetable Side Dishes listed above.
Vegetables definitely don't have to be boring with this list of tasty recipes – you're sure to get lots of rave reviews no matter which ones you choose!
Asparagus Sides
---
More Collections: Healthy Side Dishes, Mexican Side Dishes, Summer Side Dishes